Graduate students and early career researchers from a broad spectrum of backgrounds from the sciences to the humanities are invited to apply to participate in a Sandpit competition. The aim is to bring together researchers in Cambridge to form small inter-disciplinary teams to generate and develop new technology-based ideas that could provide effective and affordable solutions to challenges faced in the developing world. Winning teams will be awarded bursaries to undertake field trips to develop and test their ideas in real developing world situations.
Successful applicants will be invited to a one-day event on 15 January at the Maxwell Centre, where they will participate in a range of activities to set the scene, develop ideas and form teams.  A range of facilitators with technology and international development expertise will provide support on the day, with all teams having the opportunity to pitch their ideas.  A dinner for delegates will be held in the evening.
Teams that are selected on the day will be invited to submit a 2-page proposal outlining the details of their idea, its potential benefit in the developing world, and proposed activities including a field trip.  Teams will be assigned mentors who will assist with developing the proposal and forging links with potential developing country partners.
To be eligible applicants must be registered for study on a graduate programme or be early career researchers who are contracted to be employed in the University of Cambridge at least until 30th September 2018.  We are seeking a diversity of applicants, with different research backgrounds, including those with and without experience of working in the developing world.  Project ideas that have already been field-tested will not be eligible.
To apply, complete the application form via this link, for queries contact the Winton Programme at winton@phy.cam.ac.uk, .  The closing date is 19 December 2017, and successful applicants will be advised by 22 December 2017. The short bios, relevant background and any suggestions for projects will be circulated to the successful applicants in advance of the sandpit event.
The event is sponsored by the Malaysian Commonwealth Studies Centre and the Winton Programme for the Physics of Sustainability, and supported by the Smart Villages Initiative, the Centre for Global Equality and the University of Cambridge Global Challenges Strategic Research Initiative.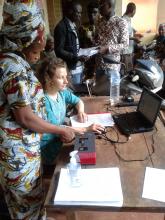 Date:
Monday, 15 January, 2018 -

09:30

to

21:30